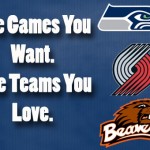 KRCO is Central Oregon's home for the Seattle Seahawks, Portland Trailblazers, Seattle Mariners and Oregon State University Beavers Football and Basketball.
Sports on KRCO (690 AM and 96.9 FM)
Seahawks FOOTBALL
Pete Carrol and his team return hoping for another Super Bowl appearance, with the help of Quarterback Russell Wilson, Running Back Marshawn Lynch and DB Richard Sherman. See the Seahawks KRCO on-air schedule here.
Blazers BASKETBALL
Led by LaMarcus Aldridge, the Trail Blazers look to continue their momentum during the 2015-2016 season.
Beaver FOOTBALL
The Beavers look to make a strong "Run for the Roses" under Head Coach Gary Anderson.
Beaver BASKETBALL
Head Coach Wayne Tinkle leads the Beavers into another exciting season of competitive PAC-12 action.
Mariners Baseball
My Oh My! Break out the rye bread and mustard, Grandma, it's grand salami time! Seattle Mariners baseball is on the air on KRCO!