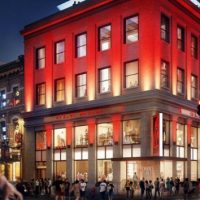 Ryman Hospitality PropertiesBlake Shelton's Music City location of his signature restaurant and bar, Ole Red Nashville, will celebrate its grand opening the week of CMA Fest, June 6-10.
Blake himself will kick off the festivities with a late-night, all-star concert after the CMT Awards on Wednesday, June 6. Fans can enter to win a chance to attend the show online. You'll also be able to stream the first three songs on Ole Red's Facebook page.
"Lower Broadway is the centerpiece of Nashville," Blake says. "There's so much great music and fun going on down there all the time and it's exciting to now be a part of it — it's a dream come true."
The 26,000-square-foot venue is the second in the Ole Red chain, after the one in Blake's hometown of Tishomingo, Oklahoma. A third location is set to open in Gatlinburg, Tennessee next year.
Copyright © 2018, ABC Radio. All rights reserved.