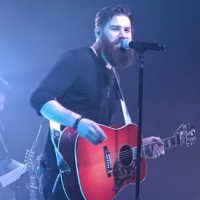 ABC RadioJordan Davis embarks on the biggest tour of his career so far this Friday night, as he opens Jake Owen's Life's Whatcha Make It trek this summer with Chris Janson.
Jordan's particularly excited, because the three will mainly be playing minor league baseball stadiums.
"You know, I grew up in Shreveport," he explains. "We had the Shreveport Captains, which was the double-A team for the Giants. So minor league baseball to me is where it's at. I would sometimes rather go to a minor league game than a major league game."
The Home State hitmaker is such a fan of the sport, he admits many of the venues are familiar to him.
"I've been watching so many of these teams…" Jordan tells ABC Radio. "I remember watching the Captains play the [Arkansas] Travelers. So to be able to go and play a show in the Travelers' stadium, and in a lot of these other really cool minor league stadiums, that's gonna be cool on its own, on top of being able to play in front of as many people as Jake and Chris have."
"It's definitely gonna be an adjustment from the White Wine and Whiskey crowds," the Louisiana native laughs, referencing the name of his club tour earlier this year. (AUDIO IS ABC 1-ON-1)
Jordan may be the newcomer on this trek, but he happens to be the one who's made the most recent trip to #1. His debut release, "Singles You Up," topped the chart back in April. His follow-up, "Take It from Me," is out now.
The Life's Whatcha Make It Tour kicks off Friday night in Chattanooga, Tennessee, before traveling on to North Augusta, South Carolina on Saturday.
Copyright © 2018, ABC Radio. All rights reserved.