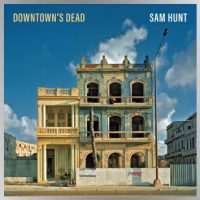 MCA NashvilleMore than a year after his quintuple-platinum crossover smash, "Body Like a Back Road," Sam Hunt has finally released his follow-up single. "Downtown's Dead" is available to stream or download now.
The single is potentially the second release from Sam's highly-anticipated sophomore album, though the Georgia-born hitmaker has been candid about the fact he hasn't made much progress on his second record.
"Body Like a Back Road" spent 34 weeks atop Billboard's Hot Country Songs chart — an all-time record — and went on to win the ACM's Single of the Year trophy. The ACM will give Sam its Milestone honor at this summer's annual honors ceremony at Nashville's historic Roman Auditorium.
He's also up for five Billboard Music Awards at this Sunday's show in Las Vegas.
Copyright © 2018, ABC Radio. All rights reserved