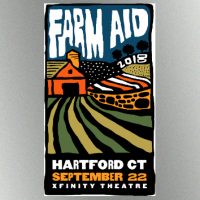 Farm AidChris Stapleton and Kacey Musgraves are set to play Farm Aid 2018 in the fall, along with its founders: Willie Nelson, John Mellencamp, and Neil Young.
This year's show will take place at Hartford, Connecticut's Xfinity Theatre on Saturday, September 22.
"Family farmers are the backbone of our country," Willie says of the cause the annual concert supports. "But today, they are endangered. Whether we live in cities like Hartford or the rural areas of New England, each of us has the power to create positive, lasting change in our farm and food system and strengthen farm families to help them stay on the land for generations to come."
Rocker Dave Matthews will take the stage as well, along with Americana favorites Sturgill Simpson and Margo Price. Expect more artists to join the lineup as the date approaches.
Tickets go on sale this Friday.
Copyright © 2018, ABC Radio. All rights reserved.