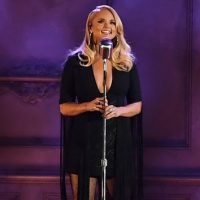 ABC/Image Group LA Miranda Lambert's Bandwagon Tour with Little Big Town kicks off in a few weeks, so before things get busy, she's been hitting the trail for a little horseback riding.
"My friend Ellie and I spent some time appreciating the colors of summer in Tennessee this weekend," Miranda tweeted on Monday, along with a photo of Ellie, her horse.
"She teaches me something about myself every ride," Miranda went on, pointing out that Ellie is the inspiration behind Idyllwind, her new lifestyle brand.
"Strength, Kindness, Sensitivity, Beauty. Fire. Power. Happiness," she added, along with the hashtags #horsepower" and "#newstuffcomingsoon."
You can spot some of Miranda's fashions in her new "Drowns the Whiskey" video with Jason Aldean. The line is set to make its debut this fall in Boot Barn stores. In the meantime, you can find out more at Idyllwind.com.
Copyright © 2018, ABC Radio. All rights reserved.