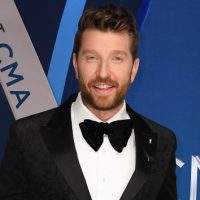 ABC/Image Group LA How'd you like to go island-hopping with Brett Eldredge?
When asked what his fantasy tour itinerary would be, the "Love Somebody" singer confesses he dreams of doing a beach tour, hitting multiple tropical locales.
"I love islands," he tells Travel + Leisure, "so if I could just play on a stage on a beach, or island-hopping in the Bahamas — I love the Bahamas."
"That's such a hard question," the avid traveler says, "but I think an island-hopping tour. Maybe the Virgin Islands, or it could be down in Fiji, wherever it is, I just love to play on the beach."
Brett continues, "There's something really magical about it. Some islands are really hard to get to, but I don't care what size the crowd is. As long as I'm playing on the beach, I think I'd be happy."
On Friday, Brett will get at least part of his wish, as he plays the Cavendish Beach Music Festival on Prince Edward Island in Canada.
Copyright © 2018, ABC Radio. All rights reserved.