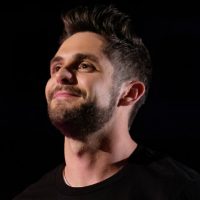 ABC/Mark LevineSaturday night, Thomas Rhett took the stage at CenturyLink Field in Seattle, Washington, opening the latest stadium date on Kenny Chesney's Trip Around the Sun Tour.
It's just the latest stop in a busy year that finds the "Marry Me" hitmaker working with Kenny when he's not headlining his own shows on the Life Changes Tour.
"I feel like we have definitely come a long way in a couple years," TR says of his career, "and you know, this is our second year doing a headline, arena tour, which I still can't wrap my head around."
"And also, getting to tour with Chesney this year," Rhett continues, "playing football stadiums and baseball stadiums, that's a pretty insane experience. Getting to watch a hero of mine, who I've been following since I was ten years old, now I'm on tour with him, getting to watch him play for sixty-some-odd-thousand people."
So does Thomas Rhett dream of one day leading his own stadium trek just like his idol? When he considers the possibility, his only response is gratitude for where he is right now.
"You know, God has been so good to us," TR reflects. "It feels like every year gets cooler. And every time we put a record out, I feel like I'm becoming a better writer and a better showman and a better singer."
"And hopefully, we [will] start doing some bigger and cooler stuff," he concludes, "but I'm very blessed where we're at right now."
Thomas Rhett's latest single, the autobiographical "Life Changes," is poised to enter country's top ten any day. He picks up his headlining tour in September with Brett Young and Midland joining him on the road.
Copyright © 2018, ABC Radio. All rights reserved.