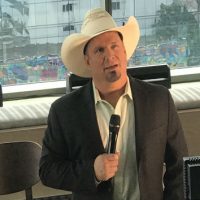 ABC RadioSix months after wrapping his three-year, 390-show World Tour, Garth Brooks is getting ready to crank things up again. At a news conference Monday, the reigning CMA Entertainer of the Year revealed his return to the road will be a one-night-only show at Notre Dame Stadium in Indiana.
While hinting this may not be the only date of its kind, Garth admitted he hadn't anticipated coming back so soon — until his agent brought him an opportunity that was too good to pass up.
"The future that this gig would bring, you had to say yes," Garth explained.
"There's a good rule that we follow…" he went on. "You tell people you love them every time, because you never know when the next time you get to see them is. So every gig you take, you take it as if you never get to play another gig again."
Other names will join Garth for the first-ever concert at the home of the Fighting Irish, but his wife Trisha Yearwood won't necessarily be one of them.
"It's a new page," he clarified. "So I can't imagine ever being anywhere that we're not together. We just spent ten days in LA. I was the band wife, so I sat around the hotel all day and waited for my wife to come home from work. And that partnership I pray will be there forever…"
"So, where the last tour was Garth… and Trisha… this time it's just gonna be Mr. Yearwood," Garth joked.
Garth didn't unveil many details about the Notre Dame show; even the date's unknown at this point. He did promise to keep ticket prices below $100, again teasing the prospect of more shows, by encouraging his fans to try to attend every one.
Copyright © 2018, ABC Radio. All rights reserved.