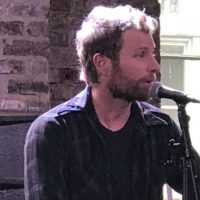 ABC Radio"I'm trying to keep it weird," Dierks Bentley says of his Mountain High Tour.
That's how things started, in an announcement video that sent tour mates Brothers Osborne and LANCO on an odyssey that led them to a shaman-like personality, with an incredible resemblance to Dierks.
Now that the trek is in motion, he's maintaining a similar mood.
"They're some weird guys, so I'm trying to keep it weird for 'em," Dierks explains. "My goal with the road…is…I'm trying to pack an entire life into every day…"
"So I just have a lot of activities…" he continues. "I've recently been doing that plunge-bath, the ice bath thing, just because — why not? We're on the road. We like to do stupid…dumb things."
The "Woman, Amen" hitmaker has also been providing some spiritual guidance.
"A friend of mine came out, who's a really positive person… He's just a great guy to talk to about stuff. He gets you fired up, gets you charged up," Dierks says, as it starts to become apparent he may be telling a tall tale.
"He brought out this device," he goes on," that's like an iPhone has a charger, this is like a body charger. I don't know how much is actually true, but we've all felt pretty good out there. But maybe it's the other stuff that's being consumed, I don't know. But I'm gonna go with [the] bio-charger."
In the end, Dierks' "friend" sounds a lot like the guy in the video.
"He's a duru," Dierks asserts. "It's a combination of the word dude and guru… It's a very unique position… I'm starting a new trend… It's all a part of the Mountain High experience."
After several festival dates, Dierks' tour resumes August 3 in Bethel, New York.
Copyright © 2018, ABC Radio. All rights reserved.