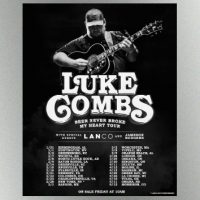 Sony Music NashvilleThere's no two ways about it: Luke Combs' upcoming Beer Never Broke My Heart Tour is a hot ticket.
The North Carolina native sold out 23 of the 28 venues on the trek during the first weekend tickets went on sale, including the May closing date at Colorado's iconic Red Rocks Amphitheatre.
LANCO and newcomer Jameson Rodgers join Luke on the dates, which kick off January 31 in Birmingham, Alabama.
This week, Luke's fourth hit, "She Got the Best of Me," broke into country's top ten, as his debut album, This One's for You, spends its 14th week atop the country albums chart.
Copyright © 2018, ABC Radio. All rights reserved.