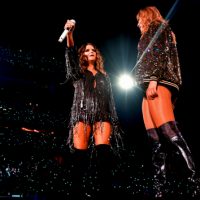 Matt Winkelmeyer/TAS18/Getty Images for TASTaylor Swift had plenty of surprises in store this weekend for the last two U.S. dates on her Reputation Stadium Tour.
Friday night in Dallas, TX, native Maren Morris joined Taylor to do sing her pop hit, "The Middle."
"Did we just become best friends?" Maren asked on Instagram, along with a photo of the two rehearsing. "Got to play my hometown stadium with this woman. Thank you Taylor Swift. Congratulations on a mind-blowing tour."
Later, Maren also posted a performance clip of the two from the concert.
"Rooted in country, 90s babies, genre-bending, unapologetic," she added. "I look up a whole lot to how you've made a career and I hope to someday achieve even a percent of what you've so gracefully cultivated Taylor Swift."
Maren continued, "You know no boundaries, and that's what music should be about. So happy to have gotten to spend the day with you and your beautiful family."
Then on Saturday, Taylor brought out Sugarland for the first-ever live performance of "Babe," their current country hit together.
"'Babe' live for the first time tonight in Dallas!!!!" Taylor shared on her socials, along with a clip of their collaboration. "THIS WAS SO MUCH FUN."
Taylor and Train singer Pat Monahan co-wrote "Babe" several years ago, and Sugarland recorded it for their current album.
Later this month, Taylor takes the reputation Stadium Tour to Australia, before heading to New Zealand and Japan, but on Tuesday night, she'll open the American Music Awards, live on ABC.
Copyright © 2018, ABC Radio. All rights reserved.