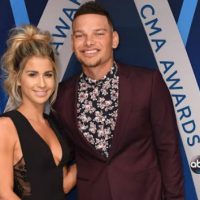 ABC/Image Group LAAt Tuesday night's American Music Awards, Kane Brown told ABC Radio that he was getting married "this week." Well, he wasn't lying: He and girlfriend Katelyn Jae tied the knot on Friday, according to People magazine.
Kane and Katelyn, who got engaged last year, got married at Mint Springs Farm in Franklin, Tennessee in front of about 200 friends and family. Speaking to People, the couple said, "We wanted something here in Nashville and loved the idea of having it at home and not traveling since we are on the road so much."
Kane wore a Lanvin suit, while Katelyn, a music management student and singer, opted for a simple, classic gown. Instead of writing their own vows, the two said, "We decided to exchange letters to each other earlier in the day and keep the actual vows a little more traditional."
On Saturday, according to People, Kane posted a photo on his Instagram story showing a new tattoo on his hand: the word "Katelyn," with the bottom of the "y" turned into the infinity symbol.
The couple is reportedly heading off to a honeymoon at an undisclosed location, but we're sure Kane will be back on the scene in time for the November 9 release of his sophomore album, Experiment.
Copyright © 2018, ABC Radio. All rights reserved.