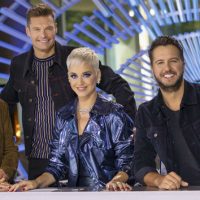 ABC/Josh VertucciAfter wrapping up, respectively, their latest tours and Las Vegas residency, Katy Perry, Luke Bryan and Lionel Richie are now back behind the judges' table, taping their second season of ABC's American Idol. And this time around, Katy says they're being somewhat harder on the contestants.
"We definitely have a few stars," Katy tells ABC Radio, but admits, "I think we're probably putting these kids through the paces a little bit more, because we know what our top 10 looked like last season and it was stellar."
She adds, "We just wanna make sure we have the same [kind of] 10, which was really diverse in sound and presentation and there was almost something for everyone…it was like everyone was a star."
All three judges agree, though, that, having had one season under their belts, they are better judges this time around.
"We think we've learned a lot and we're applying it," says Katy.
"I feel the same," adds Lionel. "I mean, last year, we were kinda feeling like maybe we were the contestants at one point, because had to learn how to get our little act together."
In between Luke teasing Lionel about his new JCPenney Home Collection, which led to Katy plugging her shoe line and Luke plugging his Nashville bar, 32 Bridge, American Idol veteran Ryan Seacrest insists that all the judges "do really take the job seriously."
"They have fun but they have seen what this show can do for somebody, and I love the fact that they really want to find someone that fits the bill for American Idol," says Ryan. "And that's what this show's produced, always: stars, and real stars who keep doing it. And that's what we're trying to do."
American Idol returns on ABC in 2019.
Copyright © 2018, ABC Radio. All rights reserved.