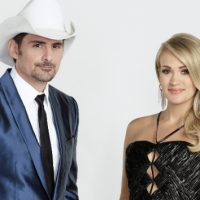 ABC/Ed HerreraRight now in Nashville, rehearsals are underway for Wednesday's 52nd Annual CMA Awards at Bridgestone Arena.
Eleven-time hosts Brad Paisley and Carrie Underwood have been so busy working on their open, they're just learning about many of the performances for the first time.
"What we do in this time period is really focus on the monologue," Brad explains. "And then, that's sort of the part later where you see a lot of ad-libbing, which is sort of the introduction of the people."
"And we'll go through and look at what they're singing and have a little fun with that. But I haven't really looked at this point," he admits.
"I don't know what songs people are singing," Carrie agrees. "I kinda have a rough idea of who's gonna be there. Whatever it is, it's country music, so it'll be good," she smiles.
After a decade of hosting Country Music's Biggest Night, there are several things fans have come to expect from Brad and Carrie. Number one on the list is parodies.
"The only clue I'll give," Brad teases, "is that there's a lot of things going on that are kind of meaningless and fun, and that's what we're looking at…"
"Keep it light! Keep it light," Carrie chimes in.
In that spirit, Brad and Carrie say politics won't be part of their plan.
"Everybody wants to forget about all that right now, I think," Brad tells ABC Radio. "So that's what we're gonna do, I think."
"Forgotten," Carrie adds.
While Barbie and Ken have sometimes been a part of Brad and Carrie's comedy in the past, they say they're likely to leave them in the toybox this year, too.
You can tune in for all the fun of the 52nd CMA Awards Wednesday at 8 p.m. ET on ABC.
Copyright © 2018, ABC Radio. All rights reserved.