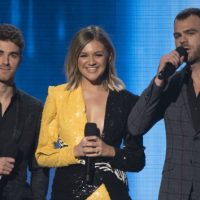 ABC/Image Group LAKelsea Ballerini and pop/EDM group The Chainsmokers are chasing their feelings around a motorcross track for the "This Feeling" video.
The video, shot at Milestone MX motocross track in Riverside, CA, portrays Drew Taggart, Alex Pall and Kelsea as three riders each dealing with their own internal struggles. It all culminates in a tense race around the dirt track.
Kelsea previously told ABC Radio the video would be "very adrenaline-heavy" and unlike anything she had ever done.
The Chainsmokers and Kelsea will be performing "This Feeling" at the Victoria's Secret Fashion Show, airing Sunday, December 2 on ABC.
Copyright © 2018, ABC Radio. All rights reserved.