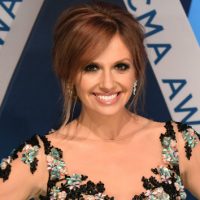 ABC/Image Group LAIf you keep up with Carly Pearce, you probably know the Kentucky native got her high school diploma thanks to home schooling, all so she could go perform at Dollywood.
From there, she moved to Music City to chase her dreams, where her folks typically join her for Thanksgiving.
"I have a very small family, so it's usually my mom and I and my dad," Carly explains. "And in years past, they've come to Nashville and we've taken in other songwriters or artists that maybe don't have family."
"And we cook a lot of different stuff that my grandmother– we kinda honor her at the holidays, and her recipes and her country cooking. And drink lots of wine," the "Hide the Wine" hitmaker adds.
This year, however, things will be different, as Carly performs her new single, "Closer to You," on the Macy's Thanksgiving Day Parade.
"I have dreamt of doing the Macy's Day Parade. It was on my bucket list," she tells ABC Radio. "It's something that my family– we always have it on, as soon as it starts, while we're cooking Thanksgiving."
"And just to think that I'm getting to do something that so many people across America– it's such a large part of how they spend their holiday with their family, and I get to be a part of it," Carly marvels. "And that's really exciting, and I think something that, hopefully, I can tell my grandkids someday."
You can watch for Carly on the 92nd Macy's Thanksgiving Day Parade — along with Kane Brown, Sugarland, Martina McBride and newcomer Tegan Marie — starting at 9 a.m. on NBC.
Copyright © 2018, ABC Radio. All rights reserved.