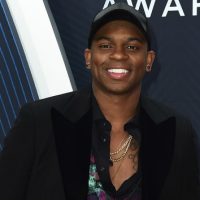 ABC/Image Group LA As Jimmie Allen spends his second week at #1 with his debut single, "Best Shot," the newcomer admits he's a little overwhelmed.
"It feels amazing, to work so hard for something," he tells ABC Radio. "I've sacrificed relationships, weddings and prom, homecoming and so many things to chase this dream and fourteen years later, to finally see it pay off just a little bit… you can't really put that into words. And I normally talk a lot, and I just don't know what to say."
One thing the Delaware native does know is that it's tremendously gratifying to be able to inspire young black kids who dream of a country career.
"The best part of my success is… doing for younger kids that look like me, what Charley Pride did for me," he explains. "He was light in a genre that didn't have a lot of people that looked like me. There are not a lot of black people in there."
"So I feel like I can show younger black kids," he continues, "'Hey, you know what, you can do country. I'm here'… It's still very important to have someone that looks like you in the career you're chasing."
Jimmie believes it's a philosophy that applies regardless of race or the career you aspire to.
"Deeper than that, I feel like it could be anyone," he adds. "If I'm in the country world where there's not a lot of black people, anyone that wants to go into a field that it's not a lot of people that look like them, you can do it…"
"I just feel like it's all about finding ways to motivate other people through your success, but also through your struggles as well."
Thursday, Jimmie kicks off the Seasons Change Tour in Dallas, Texas with Scotty McCreery.
Copyright © 2018, ABC Radio. All rights reserved.