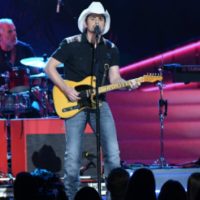 ABC/Image Group LA Brad Paisley pitches in to help his pal William Shatner on his new holiday record, Shatner Claus: The Christmas Album.
Even though the Star Trek icon and the "Bucked Off" hitmaker weren't in the studio at the same time, they made it a point to hang out.
"We got together, but not to record it," Brad says of the track. "He gave it to me and told me what it was. It's 'Blue Christmas.' And he does his thing. And I sing and play on it."
"And he does the…" Brad pauses as he imitates his friend, "'I'll… have… a… blue… Christmas,' which is — Actually, Elvis must've been doing Shatner when he sang that, because he sings it the same way, doesn't he? A lot of pauses. A lot of dramatic pauses," he laughs.
In fact, Brad was so inspired by the experience he's itching to work on another tune.
"I told him, I said, 'What we need to write is' — you know, him being Jewish — 'is "Oy to the World",' Brad jokes.
You can stream or download the Paisley/Shatner duet of "Blue Christmas" from Shatner Claus: The Christmas Album now.
For Brad's yuletide offering, you'll have to go all the way back to 2006 for Brad Paisley Christmas. The West Virginia native performed both "Away in a Manger" and "Born on Christmas Day" on this year's CMA Country Christmas special.
Copyright © 2018, ABC Radio. All rights reserved.