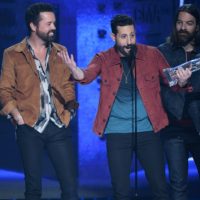 ABC/Image Group LAOld Dominion's 2018 was a career-defining year for the country band, who took home their first trophy for Vocal Group of the Year at the CMA Awards. In an interview with Billboard, frontman Matthew Ramsey says 2018 was the first year that their success didn't seem temporary.
"It felt like the year that we sort of come into our own a little," he says. "We're no longer the new guys and don't have to prove ourselves that much anymore. People are waiting to hear what we do next … It's really undeniable at this point."
Ramsey further explains that after years of being told "no" the band never thought their success would last.
"We spent so long working on this. Getting told 'No' and turned down, we had built up this self-defense-type of attitude. Things started happening, and we started being like, 'Yeah, that's cool. It's cool for now, but it's never going to last,'" he admits. "Now we can't really deny this anymore. We're winning big awards. We have a bunch of hit songs. Our crowds are amazing."
After winning Vocal Group of the Year for the first time in 2018, Matt says producer Shane McAnally told him to take in the win, since there will never be another first time they will be given the honor.
"It put it in perspective for me — it causes you to sit back and take a deep breath. We don't get into it for awards, but when you win them, it's really a special thing," Ramsey concedes.
Old Dominion have been in the studio working on their third album, expected for release in 2019.
Copyright © 2018, ABC Radio. All rights reserved.