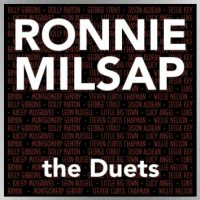 Riser House RecordsJason Aldean is just one of the superstars who's teaming up with Country Music Hall of Famer Ronnie Milsap on his new album, The Duets, which comes out January 18.
In fact, the three-time ACM Entertainer of the Year says country music's piano man "has always been one of my biggest influences."
"I think most of us have been influenced by him," Jason tells Entertainment Weekly. "Ronnie has such a distinct voice, and he's an overall great entertainer. He can hold an audience with just his voice and piano."
Jason admits he's always been particularly drawn to Ronnie's #1 from 1980, "Smoky Mountain Rain," which Dolly Parton helps recreate on the new project.
"I remember hearing it when I was younger and being haunted by it," he recalls. "It was so different from anything I'd ever heard before."
Jason duets with Ronnie on his top ten hit from 1984, "Prisoner of the Highway." Luke Bryan, George Strait, Little Big Town, Kacey Musgraves, and Willie Nelson all sing with Ronnie on The Duets as well.
Copyright © 2019, ABC Radio. All rights reserved.