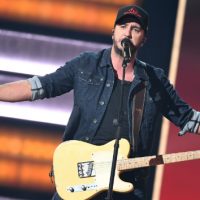 ABC/Image Group LALuke Bryan, Cole Swindell, and Jon Langston are up to something.
First thing Thursday morning, the three simultaneously shared the same photo on their socials: A clean-shaven Luke stands in front with eyebrows raised, as a smiling Cole and Jon both peak out from behind him.
Luke has strong connections to both artists: He and Cole met through their alma mater, Georgia Southern, while Jon records for Luke's new Universal imprint.
So far, we don't know Luke's touring plans for 2019, except for his fair and festival dates — and the same is true for Cole. Jon, the newcomer in the group, is currently on his Prob'ly at a Bar Tour.
Next up, Jon plays Luke's first Crash My Playa show next Wednesday in Riviera Maya, Mexico. Stay tuned to see what follows.
Copyright © 2019, ABC Radio. All rights reserved.