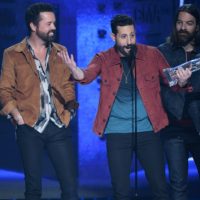 ABC/Image Group LAOld Dominion is made up of five guys who've all navigated the ups and downs of relationships, so when they heard about a fan who was going through some heartbreak, they were happy to help.
"I had plans to [propose] to my girlfriend at your Philly show in May, but was cheated on," fan Joe Moore shared on Twitter. "Now searching for someone who would join me in the pit."
"Life is short so make it sweet," he added, referencing OD's current hit.
The CMA and ACM Vocal Group of the Year wasted no time stepping in to act as the best wingmen ever.
"Ladies? Our man Joe here needs a date," they responded. "Joe – let us know when you get a date and we'll throw [you] in the meet and greets."
OD's matchmaking — and music making — continues this week, as the Make It Sweet Tour pulls into Bemidji, Minnesota and Brookings, South Dakota.
Copyright © 2019, ABC Radio. All rights reserved.