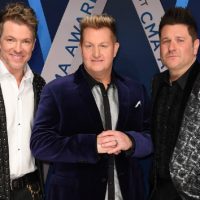 ABC/Image Group LA Rascal Flatts is adding one more stop to their Back to Us Tour…this Sunday on AXS TV.
You can experience their sold-out show at Colorado's Red Rocks Amphitheatre on Gone Country, starting at 9 p.m. ET. It's the first time the trio's ever played the iconic venue.
In addition to their catalog of hits, Gary LeVox, Jay DeMarcus and Joe Don Rooney also debuted their brand new single "Back to Life" during the show. The track is now in country's top forty.
You can preview their performance on YouTube now.
Copyright © 2019, ABC Radio. All rights reserved.