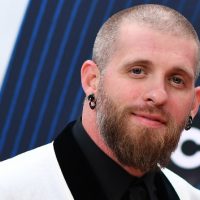 ABC/Image Group LAThis weekend in Memphis, St. Jude Children's Research Hospital celebrated the thirtieth anniversary of Country Cares for Kids. The initiative started by Alabama's Randy Owen has raised more than $800 million to treat childhood cancer and sickle cell disease.
Newcomers Brandon Lay, Caylee Hammack, Brandon Radcliff, Rachel Wammack, Seaforth, King Calaway and more visited with patients, as did more established names like Brantley Gilbert, LOCASH, Hunter Hayes, and Runaway June.
Brantley's thoughts turned to his son, Barrett. "I have a happy, healthy fourteen-month-old kid," he reflects. "We were blessed enough for him not to be diagnosed with anything like this…"
Brantley continues: "You come here and you meet these kids and they're warriors. Some of these kids don't know anything but fight."
Brantley admits he marvels at the work of St. Jude.
"What kind of work went into a place… that #1 never sends you an invoice, but #2, has an environment…that you get a positive feeling when you walk in the door?" he asks. "And you get a positive feeling from these kids; they're happy."
LOCASH's Preston Brust was thinking about his family, too.
"I just think about my kids the whole time I'm here," he admits, "and thank God, and our lucky stars that we haven't had to go through anything like this."
Runaway June's Jennifer Wayne is thankful for the comprehensive care St. Jude offers.
"These families are so taken care of…" she points out. "Their brothers and sisters are taken care of. They provide places to live here… I feel like all the other stresses are eliminated, and there's not a place in the world that does that except St. Jude."
Randy Owen presented Jake Owen with this year's Angels Among Us Award for his work with St. Jude, at a banquet Saturday night.
Copyright © 2019, ABC Radio. All rights reserved.