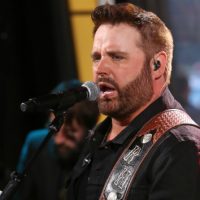 ABC/Fred LeeRandy Houser is ready to be a dad one more time.
"2019 just keeps getting better," he shared on his socials, along with a photo with his wife Tatiana, wearing a jacket that says "Mamma Houser" on the back. Randy sports an identical coat emblazoned with "Daddy Houser," while their beloved dog Hawk sits between them, wearing a photo of a sonogram around his neck.
"Man it has been hard to keep this secret because we are SO EXCITED," Randy added. "We're Pregnant!!! BABY HOUSER IS COMING IN JUNE! I feel so completely blessed to have this news to share. Can't wait for the best year of our lives Tatiana."
Randy's older son from his first marriage, West, was born in 2012.
The Mississippi native's new album, Magnolia, came out earlier this month.
Copyright © 2019, ABC Radio. All rights reserved.