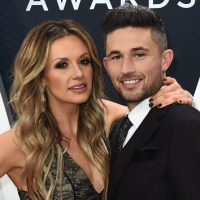 ABC/Image Group LAWhen are Michael Ray and Carly Pearce planning their trip down the aisle? While they still haven't made their wedding date public, their invited guests are about to find out, since the couple now has their save-the-date cards in hand.
Late Monday, both Michael and Carly posted the same photo, showing them smiling and holding up the notifications that will let their nearest and dearest know about their special day.
"OMGGGGG… This whole wedding thing is gettin' real, y'all!" Carly added.
"Date is saved…" Michael chimed in. "I'm gonna marry da hell out of you CP."
Previously, the "One That Got Away" hitmaker told ABC Radio that he and Carly were working to find a suitable wedding date this year, when neither of them are on tour. Last month, the "Closer to You" singer also shared on Instagram that she'd picked out her wedding dress.
The two got engaged in December, after revealing they were dating back in July.
Copyright © 2019, ABC Radio. All rights reserved.