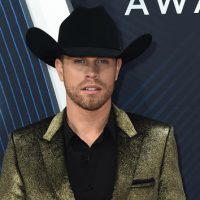 ABC/Image Group LAThere's new music coming from Dustin Lynch later this week.
"So pumped to ANNOUNCE three new songs out this Friday!!" he shared on his socials, along with artwork that features a picture of himself superimposed over a photo of a country road.
Appropriately, "Ridin' Roads" is Dustin's new single, while another photo that resembles the back cover of a CD reveals that the other two songs are titled "Red Dirt, Blue Eyes," and "Little Town Livin'."
"Can't wait for y'all to hear and jam with us this summer!" Dustin finished.
He'll spend most of this year on tour with Thomas Rhett, heading to Canada in April for the final dates on the Life Changes Tour, before the trek morphs into the Very Hot Summer Tour in May.
Dustin's new music is the follow-up to "Good Girl," which topped the chart in January.
Copyright © 2019, ABC Radio. All rights reserved.