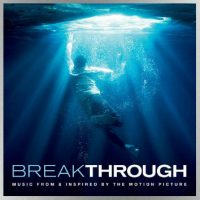 Mercury NashvilleCarrie Underwood's current top fifteen hit, "Love Wins" is featured on the soundtrack of the new inspirational film, Breakthrough, which stars This Is Us actress Chrissy Metz.
Darius Rucker, Lauren Alaina, and Maddie & Tae also contribute music to the movie, along with newcomers Mickey Guyton, Adam Hambrick, and more.
Metz herself performs "I'm Standing with You," a song written by legendary composer Diane Warren.
In the film, the actress plays a mother who refuses to give up hope after her son experiences a life-threatening accident on the ice.
The Breakthrough soundtrack comes out April 5, ahead of the movie's April 17 release. You can check out the trailer on YouTube now.
Here's the complete track listing for the album:
"I'm Standing with You" — Chrissy Metz
"Hold On" — Mickey Guyton
"Love Wins" — Carrie Underwood
"Breathe Again" — Lauren Alaina
"Big Old Shoulders" — Darius Rucker
"Colorful" — Jukebox the Ghost
"Play it Again" — Pigeon John
"Looking Out For Me" — Adam Hambrick
"People Need People" — Maddie & Tae
"This is Amazing Grace" — Phil Wickham feat. Lecrae
"Oceans (Where Feet May Fail)" — Taylor Mosby feat. Kirk Franklin
Copyright © 2019, ABC Radio. All rights reserved.