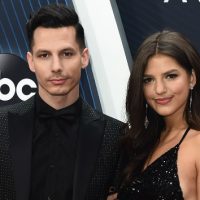 ABC/Image Group LADevin Dawson is headed down the aisle.
The "All on Me" hitmaker decided to go all in when he and girlfriend Leah Sykes marked their second anniversary as a couple this weekend.
"Yesterday we celebrated two years," he tweeted on Monday. "But I need to have her FOREVER. @LeahGraceSykes, thank you for showing me what hope feels like."
Attached to Devin's post is a smiling photo of the couple, with the bride-to-be holding up her hand to show off her engagement ring.
"I know there's almost 8 billion people in this world," Devin added, "But yesterday — without a shadow of a doubt — you made me the happiest man on this floating spinning rock when you said yes."
"I could go on forever," he continued. "Love is a crazy thing."
Devin recently released the new video for his latest single, which is also the title track of his album, Dark Horse.
Copyright © 2019, ABC Radio. All rights reserved.