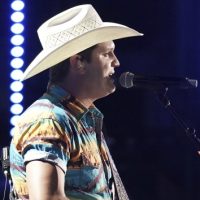 ABC/Mark LevineSure, Jon Pardi's an award-winning, platinum-selling country singer with a string of number ones to his credit. But he's also a pretty capable semi-truck driver, as he proves in the video for his latest top fifteen hit, "Night Shift."
"I could drive that one. That one was easy," he explains. "Literally, you just put the brake down and hit drive, and then you can drive it. It's an automatic. A lot of 'em are shifting to that."
"I could probably drive the old school one," he adds, "but you'd just need to show me some things."
In fact, the California native dreamed up the concept for the "Night Shift" video himself.
"I came up with the idea that I'd like to shoot it downtown at night, basically," Jon tells ABC Radio. "And then out of nowhere, it was like, 'We're getting a semi truck and we're gonna put the band on the back of the semi truck and we're gonna cruise around downtown.'"
"And I'll never forget," he continues. "His name's Jim Wright. He's a great director. And he's yelling at me, 'We need more energy!' I looked, it's like, 'Jim, it's 4 a.m. in the morning."
Tuesday night, Jon plays a special show at The Players Championship in Ponte Vedra Beach, Florida, before continuing on the Burning Man Tour with Dierks Bentley and Tenille Townes later this month.
Copyright © 2019, ABC Radio. All rights reserved.