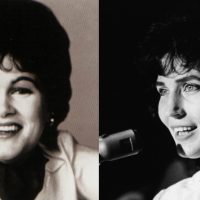 GAB Archive/Redferns; Hulton Archive/Getty ImagesPatsy & Loretta are coming to Lifetime.
The cable network has given the go-ahead for a new movie that focuses on the friendship between Country Music Hall of Famers Patsy Cline and Loretta Lynn, according to Deadline.
Two actresses with Broadway backgrounds will play the legends: Megan Hilty, who starred in NBC's TV musical Smash, will be Patsy, while Tony Award-winner Jessie Mueller, who starred in Waitress and Beautiful: The Carole King Musical, will be Loretta.
While the leads clearly have the pipes to pull off everything from "You Ain't Woman Enough" to "Sweet Dreams," the movie will also have authenticity: Both Patsy's daughter Julie Fudge and Loretta's daughter Patsy Lynn Russell are co-producers on the project.
Nashville creator and Oscar-winner Callie Khouri is directing.
You shouldn't have to wait too long to see it, either. Patsy & Loretta is shooting this month in Music City, and is set to air later this year on Lifetime.
In the meantime, if you'd like a crash course in the friendship between then-newcomer Loretta Lynn and established star Patsy Cline, all you need to do is watch 1980's Academy-Award-winning Coal Miner's Daughter. A large portion of the biopic, starring Sissy Spacek and Beverly D'Angelo, is devoted to the close relationship between the two.
Copyright © 2019, ABC Radio. All rights reserved.