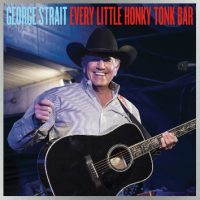 MCA NashvilleGeorge Strait may've officially retired from the road in 2014, but nearly five years later, there are still plenty of chances to see the Country Music Hall of Famer play live.
The latest will be Saturday, August 17 at Gillette Stadium in Foxboro, Massachusetts. Blake Shelton, "On My Way to You" hitmaker Cody Johnson and newcomer Caitlyn Smith will join him for the show at the home of the New England Patriots.
Tickets go on sale Friday, March 29.
Strait announced the concert on his socials Tuesday morning, in a dryly comic video where Blake pokes fun at George for continuing to work even though he's retired from traditional touring.
King George, at the same time, heckles Blake by saying he never watches The Voice but is a big fan of Blake's rival, Adam Levine.
George has his first top-25 hit in awhile right now with "Every Little Honky Tonk Bar." The full Honky Tonk Time Machine album arrives March 29.
Copyright © 2019, ABC Radio. All rights reserved.