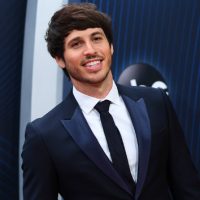 ABC/Image Group LAMorgan Evans' second American single, "Day Drunk," is currently climbing the country top 40 in the U.S., but it's already been named Country Work of the Year in his native Australia.
The Aussie picked up the award from the Australian Performing Rights Association on Tuesday Down Under. The recognition follows his debut American hit, "Kiss Somebody," which made it to the top of the chart.
Morgan's late manager Rob Potts, who inspired the title track of his album Things That We Drink To, was also honored with the Ted Albert Award for Outstanding Services to Australian Music.
Copyright © 2019, ABC Radio. All rights reserved.