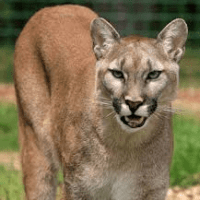 ODFW has received two additional reports of a cougar in the Deschutes River Canyon area. One was a sighting near the canal near Fred Meyer during early morning hours on May 6.
The second more concerning report is of a deer kill within a subdivision on the east rim of the Deschutes River canyon. ODFW investigated the kill site and confirmed it as a cougar kill today.
Based on the additional sightings and evidence of the cougar's continued use and residency within city limits, ODFW and Bend Police believe this cougar to be a public safety threat. ODFW is now taking steps to kill the cougar.
Residents and hikers in the Deschutes River Canyon area are encouraged to continue taking precautions and to review cougar safety information, see our Living with Cougars page and this cougar sighting sign for more information.