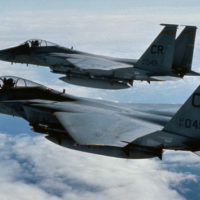 (KATU-TV ABC-2) – The Oregon Air National Guard says its fighter pilots in F-15 Eagles will fly over hospitals across the state again Friday to salute frontline workers.
The flyovers are a joint effort between Oregon's 173rd Fighter Wing, based in Klamath Falls, and the 142nd Wing, based in Portland.
The flights are done in conjunction with regularly scheduled training and will incur no additional cost to taxpayers.
Anyone who lives near the hospitals the pilots will fly over will be able to see and hear the jets and they soar through the sky at approximately 400 mph airspeed.
The Oregon Air National Guard asks people to watch from the safety of their own homes. These will be the last of the Oregon Air National Guard's Air Force Salute flyovers in Oregon.
The following flyovers will take place Friday:
8:48 a.m. Legacy Salmon Creek Medical Center, Vancouver, Wash.
9:10 a.m. Pioneer Memorial Hospital, Heppner, Ore.
9:15 a.m. Good Shepherd Health Care System, Hermiston, Ore.
9:19 a.m. St. Anthony Hospital, Pendleton, Ore.
9:25 a.m. Grande Ronde Hospital, La Grande, Ore.
9:31 a.m. Wallowa Memorial Hospital, Enterprise, Ore.
9:39 a.m. St. Alphonsus Medical Center, Baker City, Ore.
9:48 a.m. Blue Mountain Hospital, John Day, Ore.
10:05 a.m. St. Charles Madras Hospital, Madras, Ore.
10:07 a.m. Warm Springs Health and Wellness Center, Warm Springs, Ore.
Additional flyovers will occur on Memorial Day, Monday, May 25:
10:50 a.m. Sky Lakes Medical Center, Klamath Falls, Ore.
10:58 a.m. VA White City, Ore.
11:10 a.m. VA Roseburg Health Care System, Roseburg, OR
11:10 a.m. Mercy Medical Center, Roseburg, Ore.
11:18 a.m. Peace Harbor Cottage Grove Community Med. Center, Cottage Grove, Ore.
11:22 a.m. McKenzie-Willamette Medical Center, Springfield, Ore.
11:22 a.m. Peace Harbor Medical Center at Riverbend, Springfield, Ore.
11:24 a.m. Peace Harbor Sacred Heart Medical Center, Eugene, Ore.
11:40 a.m. Peace Harbor Medical Center, Florence, Ore.
11:44 a.m. Lower Umpqua Hospital, Reedsport, Ore.
12:00 p.m. Asante Three Rivers Medical Center, Grants Pass, Ore.
12:00 p.m. Grants Pass Riverside Park, Grants Pass, Ore.
12:10 p.m. Brookings Harbor, Brookings, Ore.